On March 2nd, 2004, the ESA Satellite Rosetta was launched. On board, a little comet lander called Philae, from the Deutsches Zentrum für Luft- und Raumfahrt, meant to land on some comet and investigate it.

http://www.solarsystemscope.com/rosetta/
After a long journey, passing by several planets, and on which both Rosetta and Philae were put in hybernation, all action started 10 years later. Due to a launch delay second choice comet 67P Churyumov Gerasimenko was in sight and looked initially like a giant rubber duck. But when Rosetta and Philae came closer by, it looked more and more impressive and scientists were amazed by the great images that came back from Rosetta. What looked like a little funny dot in July 2014 was an impressively duckshaped ball of ice and rock in August 2014.


Potential Landing spots were chosen (copyright ESA) and names were given to the landing zones by PR campaigns via twitter, facebook and google+.
And then, it was time to let Philae go, let her float off to 67P and continue her job on site.
About 6 hours later, we got the signal from Philae's instruments she made a touch down.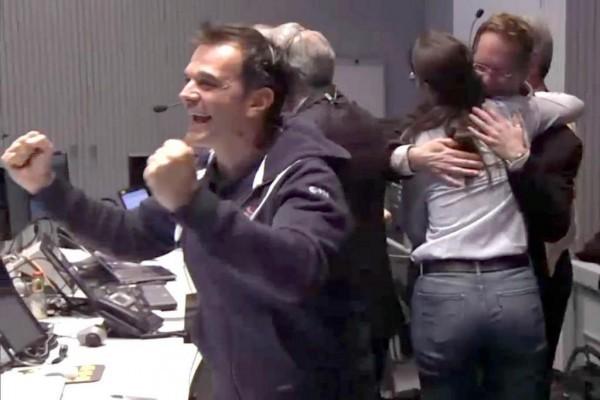 Yes, we landed on a comet.

And we got data back from Philae! Here's the "Day shift" Andrea Accomazzo telling the "Night shift" Sylvain Lodiot our Rosetta had contact with our DLR Comet Lander Philae.

(image taken from internet as example)
We then ran off to the Project room and there we had the scientists standing around one little laptop, which showed the first images coming back. They were completely outrageous, happy, hugging each other and it was rather emotional. They were all excited to see the first images, and they looked like this:
On the table we had all the high-res images made by Rosetta from the comet layed out in order like a giant "google maps" image to figure out the next question: "But where did we land?".
On this map of stacked black-and-white pictures, showing craters and boulders, icy bits and shades, there was one tiny little triangle near the edge that wasn't covered by a picture but showed the picture. And one of the OSIRIS people pointed at that gap (Holger Sierks), saying "I guess we landed there".
As Fred Jansen, former Rosetta Mission Manager, ESA, said, when being asked how it was possible that hardware that had to last 10 years in space, managed to wake up at a remote signal, started working and then even brings in new data, as if they'd never been on a 10 year journey, never mind hybernation: "My car is also 20 years old, but when I turn the key it starts and it drives".

Despite a lot of scientists were more than tired (Matt Taylor, JP Bibring still looking fine though), not having slept for over 24 hours, we still gathered together for a little "prost".

After the Cometlander Philae made her famous now-called landing-ding-ding, she sent quite a lot of data for the first days. But then, as her loyal host on the journey, ESA's satellite Rosetta, couldn't find her anymore in the dark areas of the comet, she got quiet and ESA lost contact on November 2014, after having received loads of interesting data.
Also she set another record:
List of Cometlandings by Space Agencies:
1.) esa
2.) esa
3.) esa
All that work makes tired. With Philae stuck in a corner in the shade of some edge of the comet, the sunlight is not enough to keep the battery charged.
My #lifeonacomet has just begun @ESA_Rosetta. I'll tell you more about my new home, comet #67P soon… zzzzz #CometLanding

— Philae Lander (@Philae2014) November 15, 2014
And then it got quiet. Very quiet.

Waking up
But on Saturday, June 13th 2015, 7 months after Philae got to sleep, all of a sudden there was a great message:
Hello Earth! Can you hear me? #WakeUpPhilae

— Philae Lander (@Philae2014) June 14, 2015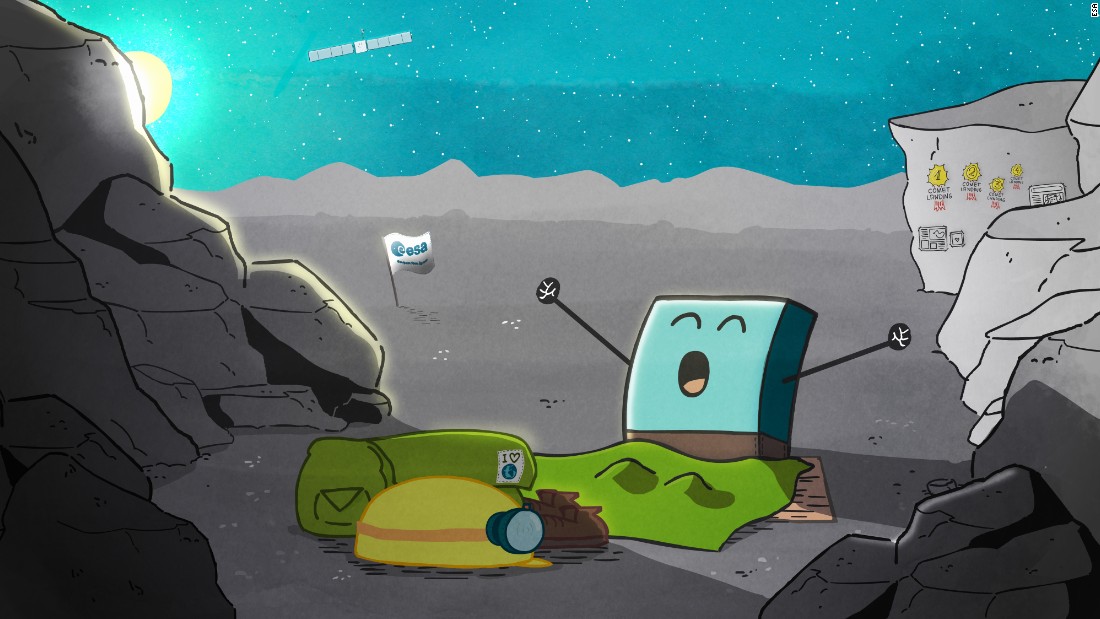 DLR's cometlander Philae is alive again and sending a signal, the battery had been recharged in the time Rosetta and Philae got closer to the sun and the dark spot Philae was in was now sunlit enough (3 hours/day) to warm up Philae. It's instruments, and better; it's battery has been recharged so it could wake up and contact Rosetta. And so it did. Philae called home.
Rosetta is however a bit further away from the comet at the moment, as with the increasing heat, while approaching the sun, the comet bursts into life as well. Spouts of water vapor and dust are being dumped into the sky as the comet heats up, so it is difficult to get Rosetta closer by. But then, Philae is a tough little lander and she manages perfectly well to send her data to Rosetta.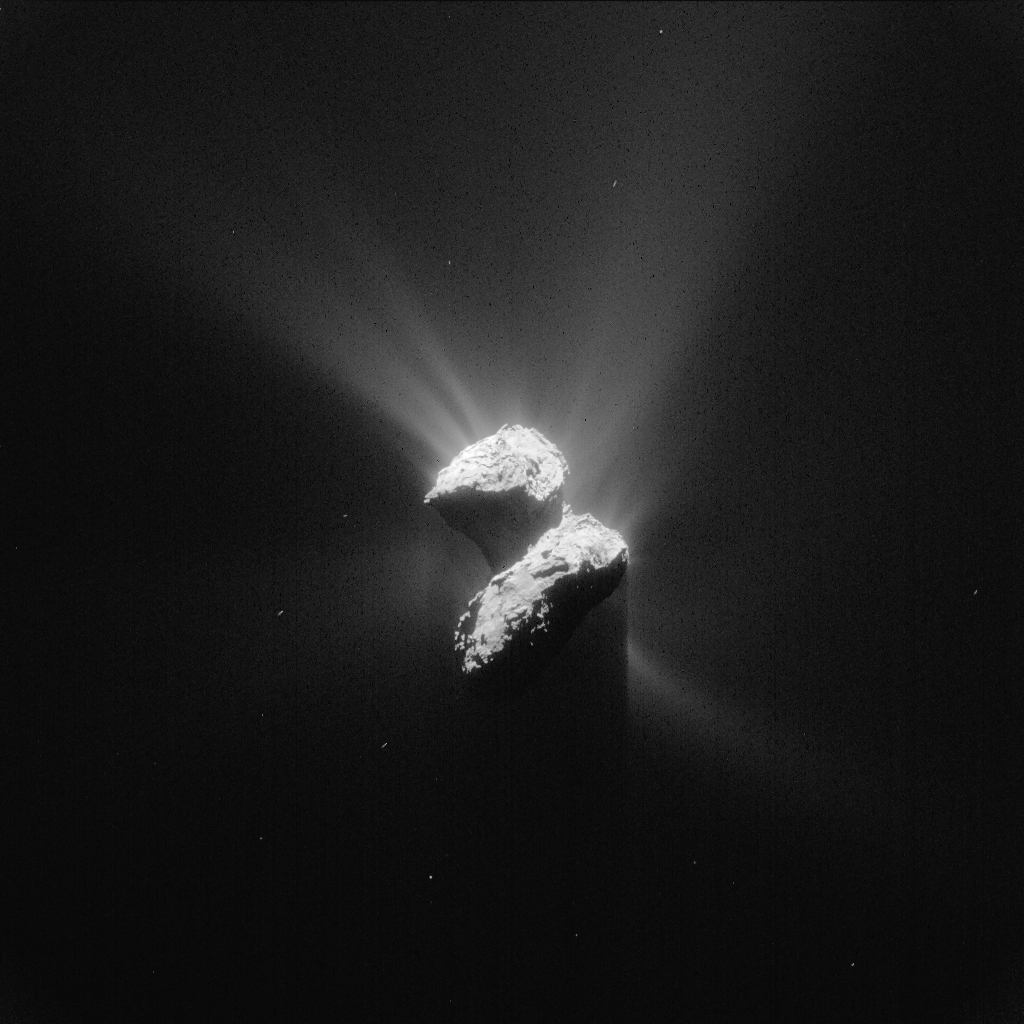 Rosetta picture from P67 beginning of June 2015, taken from about 200km distance – copyright ESA
So much about some background details.
My Jr. asked me how big comet 67P Churyumov Gerasimenko actually is, compared to where we live, or are. He knows the Philae 1:1 scale model that was probing the pack of stroopwafels Marieke Baan brought in. But "Chury" is a bit bigger than what you can see in the background.
@Philae_MUPUS I know what you tasted #dutch #stroopwafels! :) @redplanet00 will know what they taste like :) pic.twitter.com/QHZUmTqioa

— nerdette – m► t▲▲ (@me_too) November 15, 2014
And thankfully, ESA has put on some comparison pictures. So here they are;
67P Churyumov Gerasimenko in the IJsselmeer, the Netherlands


(Image requested by Marieke Baan, who brought me a nice pack of fresh dutch stroopwafels ;)
67P Churyumov Gerasimenko over Darmstadt

67P Churyumov Gerasimenko over Amsterdam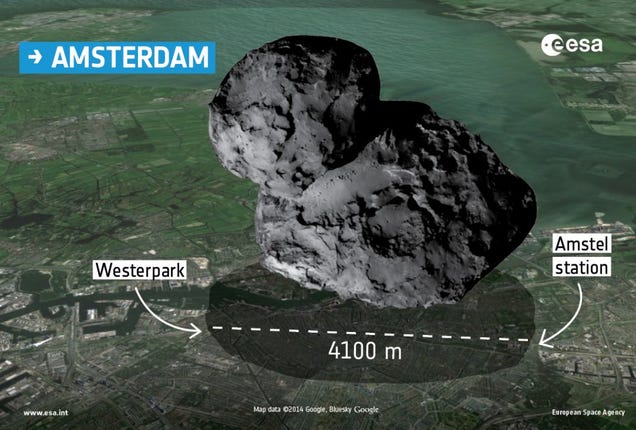 67P Churyumov Gerasimenko over Madrid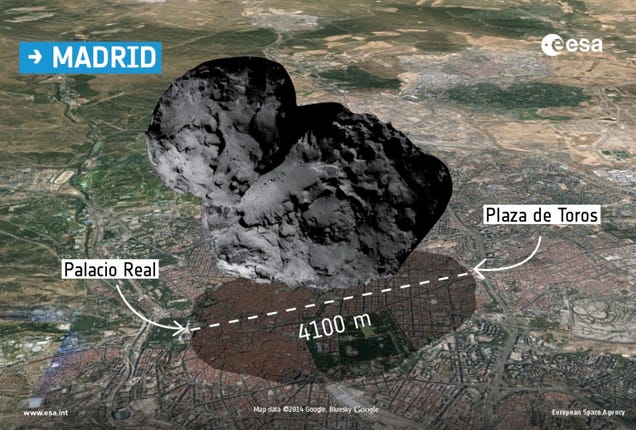 67P Churyumov Gerasimenko over Paris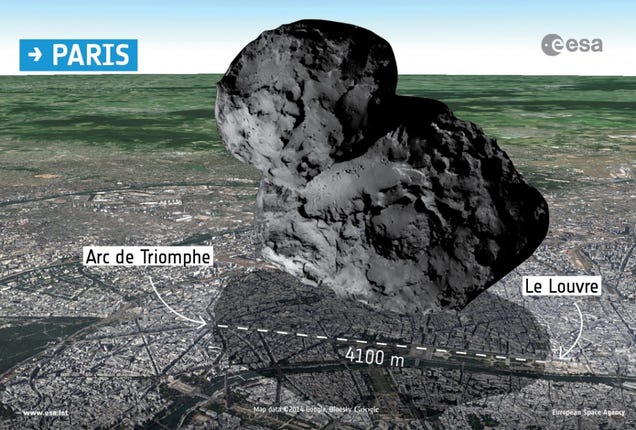 67P Churyumov Gerasimenko over London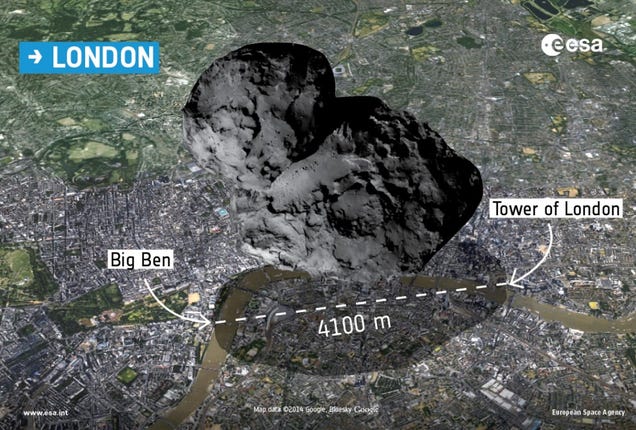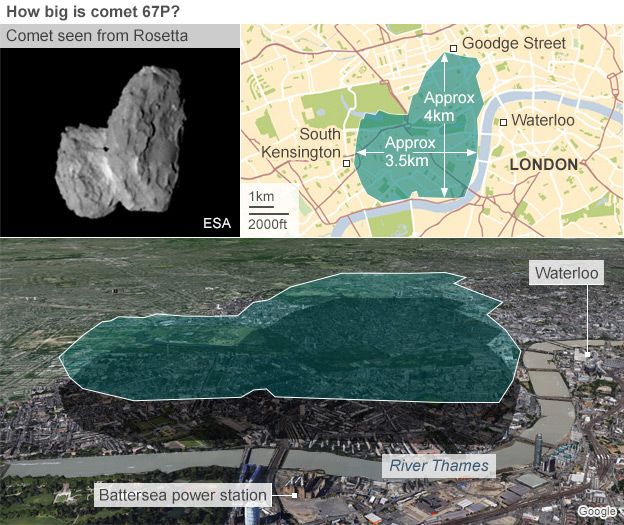 Oh, and yes, just as a nice reference, here's the Philae Lander Fact Sheet (pdf).
And even better:
the twitter accounts of Rosetta, Philae and it's instruments: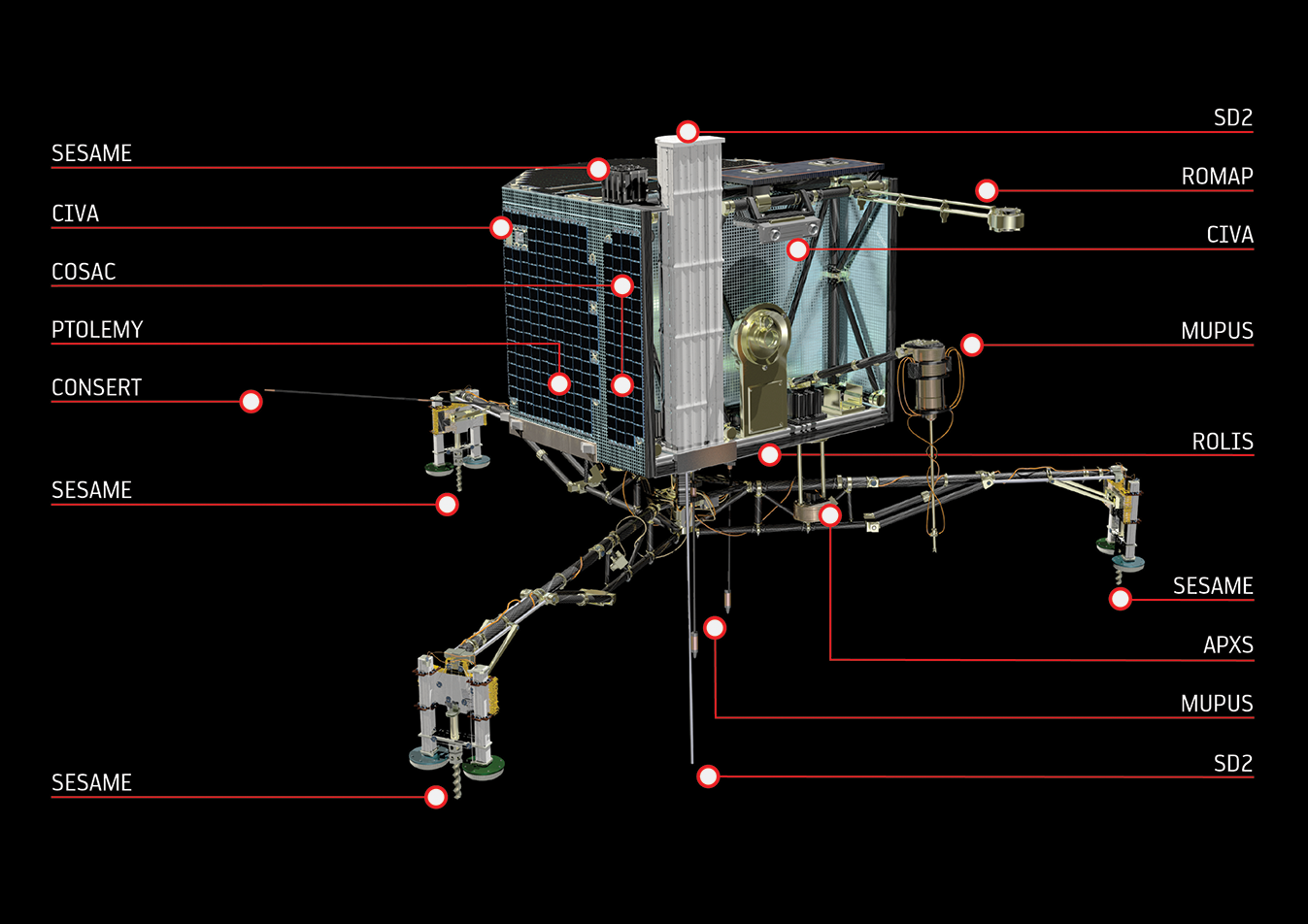 The main characters:
* ESA Rosetta
* ESA Operations (ESOC) in Darmstadt
* Philae Lander from DLR
* DLR (english)
Philae's instruments:
* MUPUS
MUlti PUrpose Sensor. One of the instruments on the Rosetta Philae Lander. Measuring thermal and physical properties on the surface of a comet.
* ROMAP
My name is ROMAP (Rosetta Lander Magnetometer and Plasma Monitor) and I am an instrument aboard the Philae lander on ESA's Rosetta mission
* Ptolemy
An instrument associated with ESA's Rosetta mission; we are with Philae, now on the surface of comet 67P/Churyumov-Gerasimenko
* COSAC
Evolved Gas Analyser, to determine the chemical composition of the comet material.